Humidity and COVID-19
It's no secret that respiratory illnesses thrive in the dry winter air in Vandalia, Ohio–we've all had those dreaded winter colds. And according to a group of scientists from around the world, your chances of contracting COVID-19 are also increased during the winter due to three main factors caused by low relative humidity:
Respiratory Immune System Efficiency – Your respiratory immune system's defenses are impaired.
Virus "Float" Time – Airborne droplets that contain viruses shrink due to evaporation, making them lighter and giving them more "air time" to spread more easily.
Virus Survival Time – The drying of airborne droplets that contain viruses allows them to survive longer.
Per the Environmental Protection Agency's recommendation for health and comfort, the ideal relative humidity level for your indoor environment is below 60%.
In a home with balanced humidity, our respiratory immune system's defenses are much more effective at capturing, removing, or fighting germs; airborne droplets that contain the virus fall out of the air quicker due to the extra moisture they retain; and because those airborne droplets containing viruses retain moisture, physicochemical reactions can deactivate the virus.
Humidity In Your Home
Thankfully, regulating your home's humidity is no problem with Aprilaire's systems and Choice Comfort Services. We've been in the whole-home humidifier game for nearly six decades and continue to focus on creating whole-home humidification solutions for health, comfort, and preservation.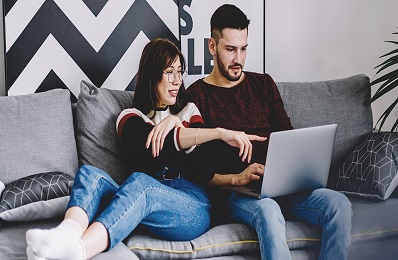 Aprilaire's humidifiers are built to fix your home's dry air needs by adding the perfect amount of moisture: a relative humidity no lower than 30% and no higher than 60%.
Keeping your home's relative humidity in the ideal range is key to maintaining proper Indoor Air Quality in Dayton, Ohio and has benefits that go beyond reducing your risk of contracting COVID-19:
Reduces asthma flares.
Prevents cracks in your home's wood furnishings.
Reduces the transmission of other airborne viruses.
Prevents your skin, eyes, and nose from drying out.
Improves sleep quality.
With our easy-to-use digital controls, you can set the correct relative humidity for your home and let our system do the rest. We also have an app you can use to control the humidifier from your smartphone, making it even easier to keep your Aprilaire whole-home humidifier and HVAC system running at optimal efficiency.
Best of all, Healthy Humidity is just one part of the Aprilaire Healthy Air System™ . Balanced humidity complements fresh air ventilation and air filtration, greatly contributing to the overall health of you and your family.
As always, it's important to follow all guidelines from the Centers for Disease Control and Prevention when it comes to protecting yourself and those around you from contracting COVID-19. Wear a mask, maintain social distancing of at least 6 feet, and avoid large crowds.
Contact Choice Comfort Services (937) 898-5252 today to learn more!
"Man, Tommy and Travis came out and replaced our furnace and AC units. They were professional, honest, and did quality work. I wouldn't trust another business to work on the essentials of my home!"
"Great company, from the staff and technicians to management. Great, knowledgeable folks. You won't go wrong with this company for your heating and A/C needs. They're the only ones I call."