AC Repair & Duct Sealing Services in Englewood, OH

Any number of problems can affect your air conditioner, resulting in sub-optimal performance or unknown noises during operation. For these scenarios, you'll need to hire professional air conditioning cleaning services.
The performance of your cooling and heating unit is only as good as the ductwork that supports the system. At Choice Comfort, our highly effective duct sealing service includes repair of any leaks or disconnected ducts, increasing its efficiency and lowering energy costs.
In Englewood, OH, our experts in air conditioning cleaning and duct sealing services will keep things cool, comfortable and well-maintained in your home. So call today at 937-982-5055 and get a free estimate.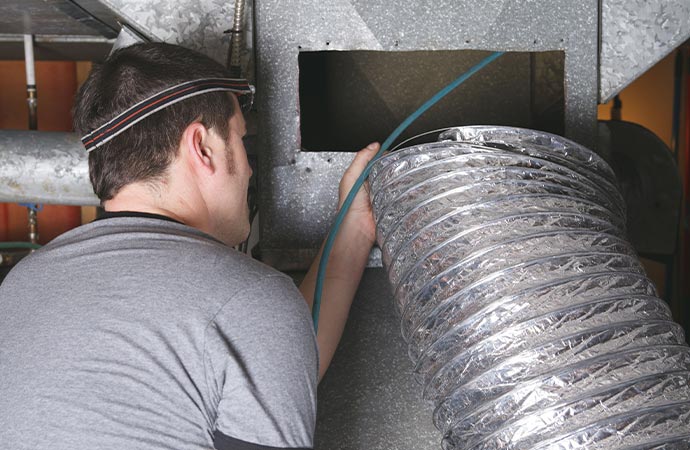 Choice Comfort Services in Englewood
Choice Comfort AC duct cleaning and repair work in Englewood also includes:
Air duct cleaning: Clean air ducts are vital to the health of your whole family. Dust, pollution, mold, and other allergens may make you, your family, and visitors feel uneasy and uncomfortable. Indoor air quality (IAQ) is ranked as the fourth most serious environmental danger to our nation by the Environmental Protection Agency (EPA). In order to ensure that your indoor air is clean, safe, and fresh, have Choice Comfort Services examine and clean your airflow ducts.
AC repair: Choice Comfort Services has the professionals you need to have your air conditioning system fixed and restored in working order as quickly as possible. Our highly skilled specialists will diagnose and fix any problem you are experiencing, or they can suggest a new system if it's time for a replacement. With years of expertise in the HVAC industry, our technicians will ensure that you get the highest quality service possible.
Rely on Choice Comfort for Superior Repair and Cleaning in Englewood, OH
At Choice Comfort, we use specialized diagnostic tools and techniques to inspect your system. We are available 24/7 and we provide instant support for emergency response in Englewood. For effective service at an affordable rate call 937-982-5055 or click here.
"Man, Tommy and Travis came out and replaced our furnace and AC units. They were professional, honest, and did quality work. I wouldn't trust another business to work on the essentials of my home!"
"Great company, from the staff and technicians to management. Great, knowledgeable folks. You won't go wrong with this company for your heating and A/C needs. They're the only ones I call."