Heating System Maintenance & Tune-Up in Dayton & Vandalia
Maintaining your heating system is a wise investment that will enhance your energy efficiency and indoor air quality at your home or office. Regular maintenance or tune-up services for your heating system translate to fewer repair needs over the life of the system. It also provides a longer lifespan for the heating system while improving your indoor air quality.
At Choice Comfort, we have been providing our customers with outstanding heating system maintenance and tune-up services for the past three decades in Dayton, Kettering, Vandalia, and other cities we serve in Ohio. As a certified HVAC services provider, we provide the highest-quality customer service from our installation specialists and maintenance crews in Bellbrook, Clayton, Oakwood, and other cities within our Ohio service area. For more information, give us a call at 937-898-4328 or click here to make an appointment ASAP.
How Often Do You Need to Tune-Up Your Heating System in Ohio?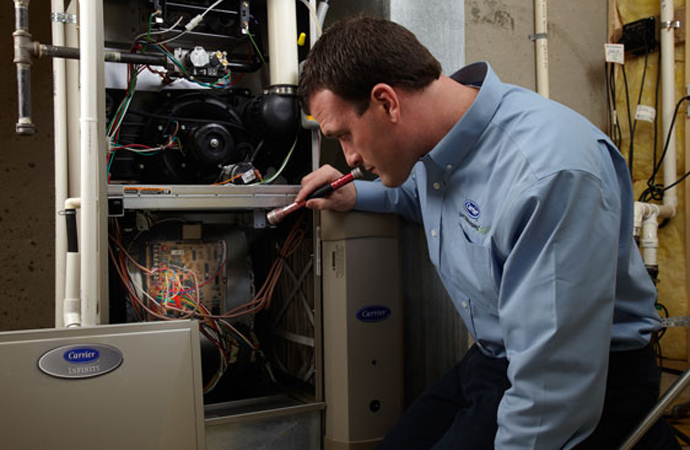 If you want to keep your heating system run at its highest efficiency and keep your utility bills in check while improving the lifespan of the system, routine annual heating maintenance is suggested by HVAC manufacturers as well as heating & cooling experts. Unchecked minor issues can eventually lead to major loss of efficiency and in the worst-case scenario, premature breakdown of components along with a shorter lifespan.
Benefits of Professional HVAC Maintenance
When it comes to tuning up your heating systems, you cannot rely on a DIY approach. You need a seasoned professional who can diagnose signs of excess wear-and-tear issues, as well as potential hazards based on debris & clutter found inside your system.
Our crews at Choice Comfort will carefully and thoroughly inspect your heating system and find any sign of pending repair needs. We handle minor replacements right away while thoroughly cleaning the system.
MyChoiceComfort Plan Provides Superior HVAC Maintenance for Your Unit
We offer the MyChoiceComfort Plan to help you stay on top of your yearly HVAC maintenance with two yearly inspections and tune-ups per year. This is a great way to stay current on your filters and maintenance, which can easily be forgotten with our busy schedules.
Maintain Your HVAC System With Choice Comfort in Dayton, Ohio
For more than 25 years, Choice Comfort Services has set the industry standard for HVAC products and services for both residential & commercial customers in Troy, Tipp City, Dayton, Kettering, and throughout the Miami Valley in Ohio. Our skilled technicians are ready to maintain your heating system. To learn more, give us a call at 937-898-4328 or click here to schedule your service ASAP!
"Man, Tommy and Travis came out and replaced our furnace and AC units. They were professional, honest, and did quality work. I wouldn't trust another business to work on the essentials of my home!"
"Great company, from the staff and technicians to management. Great, knowledgeable folks. You won't go wrong with this company for your heating and A/C needs. They're the only ones I call."