Touch-less Tune-Up Program in Dayton Ohio
We are excited to bring you our "Touch-less Tune-Ups" program! We realize the importance of protecting the investment you have in your home comfort system by performing your regularly scheduled maintenance. This A/C season we're introducing our "Touch-less Tune-ups."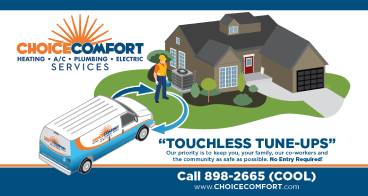 Here is how it works:
When we arrive, we will drop your new filter at your door for you to change.
We will phone you and ask you to make a few thermostat changes while we're there.
We will clean and check the outdoor unit.
We'll follow-up by phone before we leave.
THAT'S IT! Your outdoor unit will be clean, inspected and ready for the cooling season!
Call 937-898-4328 (COOL) to book your appointment!
"Man, Tommy and Travis came out and replaced our furnace and AC units. They were professional, honest, and did quality work. I wouldn't trust another business to work on the essentials of my home!"
"Great company, from the staff and technicians to management. Great, knowledgeable folks. You won't go wrong with this company for your heating and A/C needs. They're the only ones I call."