Smart AC Thermostat Installation in Dayton & Vandalia, OH
A smart air conditioning thermostat is an automated device enabled and operated wirelessly and remotely through Wi-Fi. Temperatures are automatically adjusted up or down through set preferences to ensures optimal AC performance and efficiency. Manual adjustment is no longer necessary with a smart AC thermostat.
Choice Comfort installs the most efficient and easy-to-use smart AC thermostats for customers in Beavercreek, West Carrollton, Kettering, and cities throughout our Dayton service area. We also provide AC controls and thermostats, HVAC planned maintenance, and many more air conditioning options. Call us today at 937-982-5055 or contact us online to arrange a consultation with a Choice Comfort representative.
Why Choice Comfort For Smart AC Thermostats in Kettering?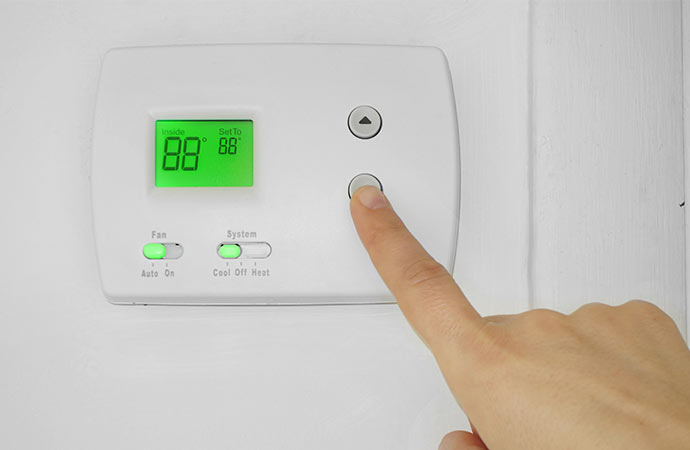 With Choice Comfort, our easy-to-use smart AC thermostat installation provides the following:
Efficient, time-saving: Preset your thermostat manually before leaving, or do so from a smartphone from the road if you forget. Save time, cooling or heating costs, and have peace of mind.
Track energy usage: Real-time data can be generated by smart AC thermostats to clearly show how much energy is used by your HVAC.
Remote control: No more panicked moments at leaving the thermostat too high or low by mistake. Adjust for being away from home even after you have already gone.
HVAC scheduling: Need to schedule certain times to turn on, off, or adjust heating or cooling? Personalize your heating and cooling schedules either while home or away. Come home to optimal comfort during the coldest or hottest months.
Trust Choice Comfort For Convenient Smart AC Thermostats in Dayton
Choice Comfort has the certified, skilled HVAC technicians to deliver the results and service you deserve. We guarantee your complete satisfaction for all of our HVAC services, including smart AC thermostats. For decades, we have served residential and commercial customers across the Dayton, OH area with AC, heating, ducts, indoor air quality, plumbing, electric, and more options. Call us today at 937-982-5055 or contact us online to book an appointment with a Choice Comfort team member.
"Man, Tommy and Travis came out and replaced our furnace and AC units. They were professional, honest, and did quality work. I wouldn't trust another business to work on the essentials of my home!"
"Great company, from the staff and technicians to management. Great, knowledgeable folks. You won't go wrong with this company for your heating and A/C needs. They're the only ones I call."