Air Handlers Installation in Dayton & Troy, Ohio
The part of your HVAC system that moves air throughout the house is called an air handler. An Air handler is used in an AC, ventilation, or heating system to regulate and circulate the air evenly in the whole place. The air handler device runs with the heat pump or air conditioner; it contains the indoor coil used to heat or cool your home, depending on which system you are using it with.
If you live in Bellbrook, Casstown, Clayton, Englewood, or other parts of the Greater Dayton, Ohio area, please contact us at 937-982-5055. Choice Comfort Services provides the best available services for your air handler installation, repair, and maintenance needs. We are available 24 hours for your emergency services- install, repair, and maintain oil furnaces, air conditioners, heat pumps, hot water boilers, or geothermal systems.
Differences Between an Air Handler & an Air Conditioner
Air handler and air conditioner are two separate devices. An air handler moves air throughout your whole house. It doesn't heat or cool the air. In contrast, the air conditioner cools the air inside your home.
Types of Air Handlers Offered by Choice Comfort
There are many types of air handlers. For example:
Single-speed air handler- This air handler has only a fan and operates at a fixed speed.
Five-speed air handler- This works better than single speed one. The more speed your air handler has means it works more efficiently with lesser sound.
Variable-speed air handler- It comes with a variable-speed blower motor to vary the speed of your fan depending on your home requirements.
Insulated air conditioner- If you are interested in the quiet operation of your system, then go for an insulated air conditioner.
Hydronic air handler- These types of devices are designed to work with boilers.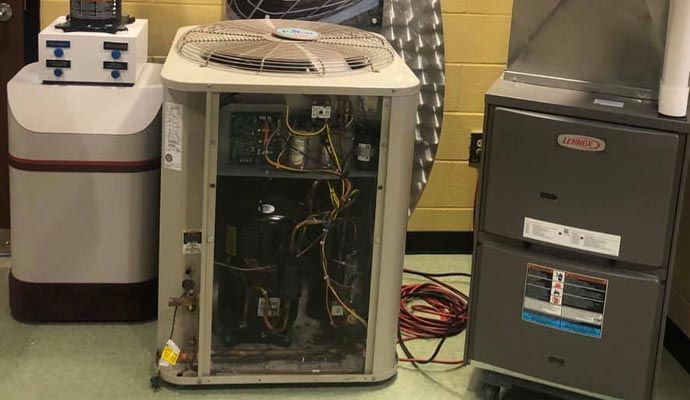 Why Choose Us to Install an Air Handler in Dayton & Kettering, Ohio?
We have been operating our business for a long time with a high rate of customer satisfaction. Check out our completed jobs section to understand the quality of our work. Besides air handlers, we also provide services for AC installation, AC repair, furnace repair, heat pumps installation, and more. Our employees are highly trained, skilled, licensed, and certified. We can also assist you with financing options as we have teamed up with Wells Fargo to offer financing options. At Choice Comfort, we are an authorized dealer of all Carrier products in Dayton and its surrounding areas. For more information, call us at 937-982-5055 or click here to make an appointment today!
"Man, Tommy and Travis came out and replaced our furnace and AC units. They were professional, honest, and did quality work. I wouldn't trust another business to work on the essentials of my home!"
"Great company, from the staff and technicians to management. Great, knowledgeable folks. You won't go wrong with this company for your heating and A/C needs. They're the only ones I call."