Professional MyChoice™ Furnace Installation or Replacement in Dayton & Kettering, OH
When the winter season kicks in, furnaces are one of the most preferred heating systems by homeowners for effectiveness and energy efficiency. For a heating system that's cost-effective and able to warm up quickly and efficiently, a MyChoice™ furnace installed by Choice Comfort Services is a likely choice.
We provide state-of-the-art furnace systems in the Dayton, OH, area. Our skill, experienced HVAC specialists also know furnace repair services, or can replace your older furnace with our high-quality new furnace. Our thorough inspections will determine if your furnace should be installed or replaced.
For furnace replacement or installation, contact us online or call us today at 937-898-4328 to schedule an appointment.
Choice Comfort Installs These Furnace Types in Dayton, Kettering and Huber Heights, Ohio
At Choice Comfort Services, we install or replace both oil and gas furnaces. Perhaps you live in an area with unavailable gas lines, or you have separate heating and cooling system.
If either is the case, then an oil furnace is your most reliable heating option. Otherwise, gas furnaces, if their fuel source is available, are more efficient and environmentally friendly. Our HVAC professionals also can convert your oil furnace to gas.
We install, replace, repair or tune-up furnaces in Dayton, Kettering, and throughout our service area in the Miami Valley in Ohio.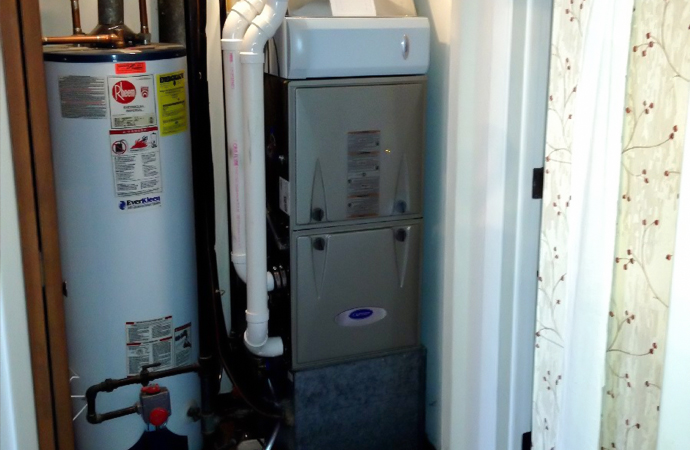 Choose Choice Comfort Service For Your Furnace Installation or Replacement in Dayton, OH
At Choice Comfort, we offer financing options with approved credit for your new or replacement furnace. If we find a more cost-effective replacement furnace, our technicians will discuss that with you as an option. We leave nothing to chance as far as what best fits your budget, system and home.
For more than 25 years, Choice Comfort Services has set the industry standard for HVAC products and services for both residential & commercial customers. We also provide heating system maintenance service to increase the life span of your furnace. Contact us online or call us today at 937-898-4328 to schedule an appointment or for any additional information.
"Man, Tommy and Travis came out and replaced our furnace and AC units. They were professional, honest, and did quality work. I wouldn't trust another business to work on the essentials of my home!"
"Great company, from the staff and technicians to management. Great, knowledgeable folks. You won't go wrong with this company for your heating and A/C needs. They're the only ones I call."