Ductless/Mini-Split AC Installation in Dayton & Kettering, Ohio
When it comes to efficient cooling and heating systems, there is nothing better in size and performance than the ductless/mini-split AC systems! These mini-split and ductless air conditioners are extremely useful in commercial, residential, and industrial buildings because they are cost-effective and energy-efficient.
Choice Comfort Services is the right company to help you select, install, & maintain a ductless mini-split AC unit in Dayton, Kettering, Vandalia, and other cities that we serve throughout the Miami Valley in Ohio.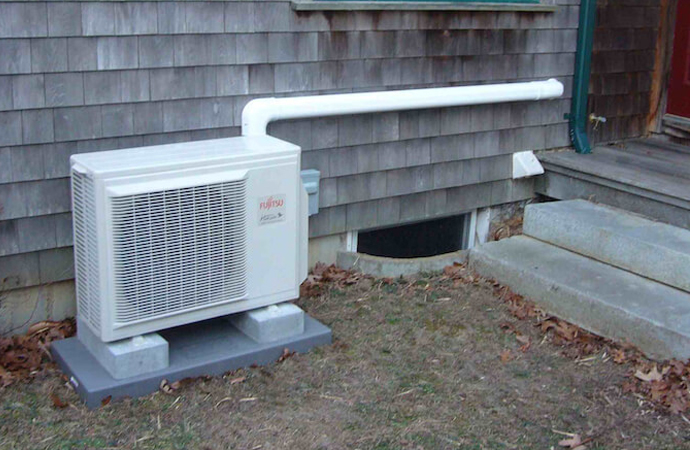 How Does a Ductless/Mini-Split AC System Work?
The entire system is separated into three main components:
An outdoor unit
An indoor mounted evaporator unit
A wireless remote control
Both indoor and outdoor units are connected by refrigerant lines running through an opening in your wall or ceiling. These ductless air conditioners deliver the same comfort as a traditional split system, only they're easier to manage and you can choose which rooms receive cooling or heating.
The ductless, mini-split system air-conditioners are small and they're the perfect size for cooling and heating individual rooms. These units are very convenient if you live alone or have a small office, or you don't want centralized air-conditioning throughout the entire home or business.
Plenty of models can have four indoor air handling units (for four rooms) all connected to one outdoor unit. To get an idea of how many air handling units you can get, it depends on how much heating or cooling is needed for your entire home or business. This, in turn, is decided by how well your property is insulated.
After you've equipped each of your rooms with their own thermostat, you'll have more opportunities to save time, money, and energy. All you need to do is press a button to turn the unit on when the room is occupied, and turn it off before you leave.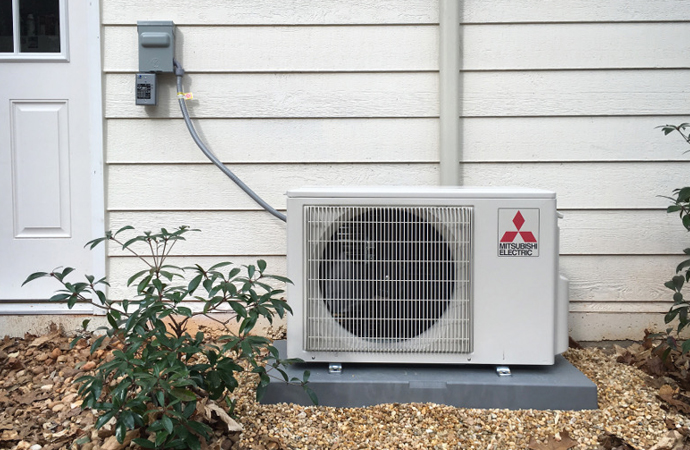 Benefits of Having a Ductless AC Unit
Flexible Solutions: Ductless cooling and heating systems give both your home and business a wallet-friendly way to replace space heaters and units that don't work. You can get them installed virtually anywhere: home additions, a newly-constructed home or condo, or commercial properties. No matter where they're installed, the mini-split systems will improve temperature control.
Cost-effective: Ductless cooling and heating systems can save you plenty of money in the long run. They work on less power and because the temperature-controlled air is pumped inside the room, there's no loss of efficiency. Best of all, the multi-split system allows owners to choose which rooms to heat or cool- no more needlessly heating or cooling unoccupied rooms!
Quick and Easy Installation: Getting a ducted system installed can take weeks and disrupt your daily routine. Going ductless means that you'll only need small pipes that require small, three-inch holes. There's no need to rebuild any walls around the ductwork!
Lower Carbon Footprint: The zoning capability of the ductless cooling system means that you'll produce less carbon. You'll have an energy-efficient, money-saving appliance and the environment is much cleaner — a win-win situation for all!
Stay Comfortable With a MyChoiceComfort Plan by Choice Comfort Services
Join our MyChoiceComfort plan so you don't skip another AC tune-up! When it comes to AC maintenance, regularly changing the air filters is a must. Clogged filters cause the AC unit to work harder to pull air into the system, producing higher energy costs while reducing the life of the HVAC system. Ultimately, your home is not as comfortable as it would be with an energy-efficient unit.
Rely on Choice Comfort Services for the Best Ductless/Mini-Spilt AC Units in Dayton & Huber Heights
For more than 25 years, Choice Comfort Services has set the industry standard for HVAC products and services for both residential & commercial customers in Kettering, Dayton, Troy, Kettering, and throughout the Miami Valley in Ohio. Contact us online or give us a call today at 937-898-4328.
"Man, Tommy and Travis came out and replaced our furnace and AC units. They were professional, honest, and did quality work. I wouldn't trust another business to work on the essentials of my home!"
"Great company, from the staff and technicians to management. Great, knowledgeable folks. You won't go wrong with this company for your heating and A/C needs. They're the only ones I call."