Different Types of Heat Pumps for Your Home
Heat pumps are used for transferring thermal energy from the outside of a residence for a warmer interior when it becomes too cold. Heat pumps also do the opposite by transferring heat from inside to outside for a cooler interior.
Depending on the purpose that needs to be fulfilled by the heat pumps, there are common types of heat pumps that we see on a regular basis. Choice Comfort can help you differentiate them and choose the right one for your AC and heating needs.
Choosing the Most Suitable Heat Pump For Your Needs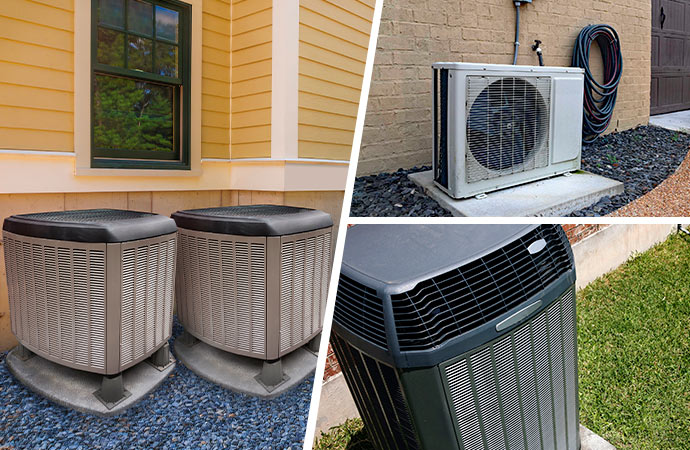 Ductless heat pump: It is also called a mini-split heat pump. They're easy to install, flexible to use, and also very energy efficient as well. These heat pumps don't require a lot of complex vents or ducts to be functioning properly. Because of this fact, ductless heat pumps are easier to install and also take a lot less trouble to be repaired once there is a malfunction.
Exhaust air heat pump: Extracts heat from exhaust air. Although, setting them up near an exhaust system is very important for it to be functioning properly.
Underwater heat pump: Utilizes water sources to be working as a medium for heat exchange. In this case, the water source has to be nearby of it.
Underground heat pump: Also known as geothermal heat pumps. By using the heat that is stored under the ground, these pumps make sure that the air temperature is kept under control and in a state where everything is in a healthy state for everyone.
Hybrid heat pump: Different than the other heat pumps because they use two different types of energy to heat up your property. They combine fossil fuels with renewable energy to get the job done for you.
Call Choice Comfort For Best Heat Pump or System Solutions
Whatever type of heat pump you need, Choice Comfort has the best installation, repair, or other options for your heating system. Our certified technicians provide industry-leading installation, repair, and maintenance for heating systems throughout the Dayton, OH area. Call us at 937-898-4328 to book an appointment with a Choice Comfort team member.
"Man, Tommy and Travis came out and replaced our furnace and AC units. They were professional, honest, and did quality work. I wouldn't trust another business to work on the essentials of my home!"
"Great company, from the staff and technicians to management. Great, knowledgeable folks. You won't go wrong with this company for your heating and A/C needs. They're the only ones I call."