Avoiding the pitfalls of DIY bathroom remodels
The bathroom is one of the most frequently used rooms in the home. In fact, according to one survey, the average person will spend 855.8 days (or 2 years and 125 days) in their lifetime in the bathroom! You'd want any room you spend that much time in to be comfortable, functional, and stylish. So it is understandable that when it comes time for a remodel, the bathroom makes it to the top of the list.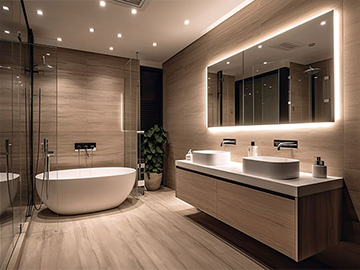 We understand a lot of people want to tackle a project like this as a "do-it-yourself" project; however, as you contemplate moving walls and making the design different in your bathroom, you should consult a plumber for your project first for the simple reason that he knows what can go wrong with your existing plumbing. In addition, bringing in a professional plumber can help you accomplish your goals safely and ultimately more cost-effectively than doing it alone.
Most projects go more smoothly when a plumber is consulted before you even begin laying out a floor plan for a remodeled bathroom. They can help lay out the toilet, water lines, and drains making your remodel a successful one by ensuring the proper placement and installation of the plumbing from the get-go.
A bathroom remodel is not necessarily dangerous; however, there are things that a professional will recognize that the average DIY person may not. Heavy and somewhat hard-to-lift fixtures are just the beginning. There is also water pressure, hot water, and leak risks to consider. A plumbing professional will know how to adjust your home's water pressure and avoid or address hot water concerns.
Bathroom remodels may seem as simple as moving a toilet or adding some new sinks, but the reality is you have to measure everything properly; you need to know that the threads will match; understand how to turn the water main off and of course make sure that everything fits together securely. Suddenly, what you thought was a simple project is a major undertaking.
And of course there's Murphy's Law to consider…if something is going to go wrong, it usually happens during a major project! Pipes can break, fixtures topple and the next thing you know, your simple project has become a major undertaking. Having a certified plumber work on your remodel from the beginning can ultimately save you money in the long-run when those pesky "unknowns" occur.
Your bathroom is an essential room in your home. It may not be where you spend time entertaining guests, but it is where you spend a good portion of YOUR time each week. When you are ready to make your "throne room" really feel like a castle, give us a call and our expert plumbing team will help you get the job done right.
"Man, Tommy and Travis came out and replaced our furnace and AC units. They were professional, honest, and did quality work. I wouldn't trust another business to work on the essentials of my home!"
"Great company, from the staff and technicians to management. Great, knowledgeable folks. You won't go wrong with this company for your heating and A/C needs. They're the only ones I call."