Frequently asked questions (and answers) on furnace repairs
This weather is…unpredictable to say the least! We are hopeful that you will not find yourself without heat this winter, but if there is an issue, we are sure you will have some questions about furnace repairs. We've answered some of the most frequently asked furnace repair questions below to give you some insight into what a furnace repair could entail.
Q. How much do furnace repairs cost?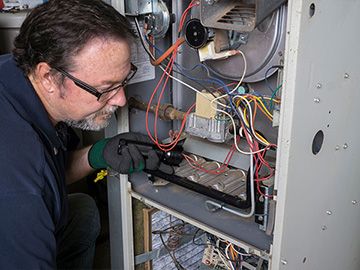 A. Unfortunately, there is no one size fits all answer to this question. Each situation is unique and therefore, the cost of furnace repairs is unique. You should expect to be charged for a service call, then once a complete diagnosis is made you should be given a thorough explanation of the needed repairs along with an upfront quote before any repairs are made.
Q. What are common furnace problems?
A. There are a wide variety of issues that could cause your furnace to go on the fritz, but there are some issues that are more common than others. Some examples include:
Faulty igniters. A bad igniter can be caused by dirt and grime buildup due to lack of maintenance.
Dirty filters. A plugged filter may cause furnace cycling problems resulting in higher utility bills as well as leaving you without heat when you need it most.
Faulty flame sensors. If a sensor is bad, it can cause fuel to burn improperly, which is unsafe for your family. When the flame sensor is bad, the furnace can actually shut down.
Motor failures. Replacing a furnace motor is costly, and may require parts to be ordered.
Q. What about emergency furnace repairs?
A. You know Murphy's Law right? What can go wrong, will go wrong. Well, when it comes to a total furnace breakdown, they always seem to happen at the most inconvenient times – overnight, on the weekend, or during the holidays.
During an emergency repair call, your furnace technician will inspect your system to diagnose the issue preventing your heating system from producing heat. Some issues can be fixed on the spot, but more extensive problems may require components to be ordered, or a new system to be installed. Your furnace repair technician will inform you of the problem at hand and the cost to correct the issue, and move forward with performing the repairs or scheduling them with your approval.
Q. How can I avoid furnace repairs?
A. Your best defense against future furnace repairs is to properly maintain your heating system! Preventative maintenance performed annually by a heating technician ensures that your furnace is up and running in good condition, helping to avoid breakdowns or system damage. This tune-up cares for essential components to reduce wear and tear that causes system failures. Choice Comfort Services offers three different options through our MyChoice™ Plans.
In addition to preventative maintenance tune-ups, staying on-schedule with furnace filter changes will also help you reduce the likelihood of breakdowns. A clean filter allows air to properly move through the system, helping your furnace function efficiently. When the filter is dirty, your furnace must work harder to move air, adding stress and increasing the likelihood of a surprise furnace repair.
Winter is far from over, even with these pop up 50+ degree days and thunderstorms in January! Your furnace is sure to be working overtime with the fluctuation in temperatures. Be sure to call Choice Comfort Services if you sense any abnormalities in your heating system.
"Man, Tommy and Travis came out and replaced our furnace and AC units. They were professional, honest, and did quality work. I wouldn't trust another business to work on the essentials of my home!"
"Great company, from the staff and technicians to management. Great, knowledgeable folks. You won't go wrong with this company for your heating and A/C needs. They're the only ones I call."