How to bring air balance to your home
The ultimate goal for Choice Comfort technicians is to help find ways to keep your home comfortable. One of the things they can check for is air balance. Air balancing is a method of testing your heating and cooling system to spot any problems that are causing uneven airflow or negative air pressure. By doing this, every room in your home will be as comfortable as possible with the equipment you have.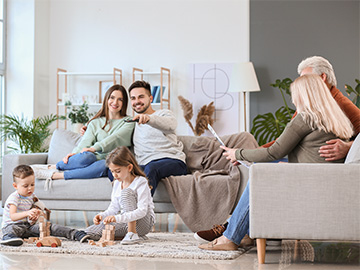 To check the air balance, our technicians will test your system's performance by looking at your intake and output and adjusting accordingly. By getting your air flow balanced throughout your home, you can avoid hot and cold spots that result in uneven temperatures.
Following are some tips you can use to balance the temperatures in your home. If you still have uneven temperatures, or need help with performing this, give us a call and we can help!
Close or Open Your Register - This seems too easy right? By moving the damper blade, you can restrict air flow in the room.
Adjust the thermostat by a 2 Degree Offset - If you're in a two-story home and have two thermostats, set the temperatures to have a 2 degree off-set (example, set upstairs to 74 and downstairs to 72).
Check Filters for Cleanliness - This is also a very good way to easily keep the air quality good and increase the efficiency of your furnace.
Install Window Coverings - Windows without drapes, blinds, shades etc. can heat up a room faster before a thermostat has the time to turn on and add relief.
Avoid Placing Electronics Near Thermostat - Electronic equipment creates a lot of heat and can really affect your comfort.
Prevent Airflow Restrictions - Do not cover registers with furniture or items that will restrict air flow. When you block a vent with furniture your system has to work harder.
Place Thermostat Fan Setting to "ON" - Your fan setting can have an impact on your indoor air quality and comfort level. Most systems have two fan settings: On and Auto. By utilizing the "ON" setting, the fan will blow continuously which will filter and always be replacing your indoor air.
These simple tips can help increase the airflow within your home and increase the efficiency of your system with the added benefit of keeping your whole family more comfortable. If you have any questions on how to balance the air in your home, give us a call and we will be happy to check it out for you.
"Man, Tommy and Travis came out and replaced our furnace and AC units. They were professional, honest, and did quality work. I wouldn't trust another business to work on the essentials of my home!"
"Great company, from the staff and technicians to management. Great, knowledgeable folks. You won't go wrong with this company for your heating and A/C needs. They're the only ones I call."