Is going ductless right for your home?
Can you imagine we live in a world where your AC system can work without a duct system? Ductless HVAC systems typically create less noise, cost less to operate and are easier to install than a traditional air conditioner; however, they do not provide the cooling power a large home with many occupants might need. In certain situations, ductless systems are ideal, but there are certain things to keep in mind before you invest in one. In general, it is important to understand exactly how this kind of system works and how much cooling you can expect from the unit before you install it. Let's take a closer look at ductless HVAC systems below to see if this is the right system for your family.
How does it work?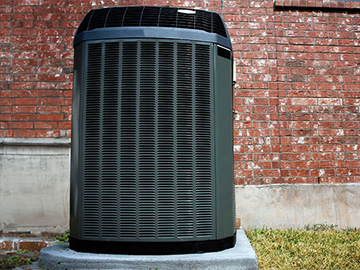 A ductless unit is typically smaller and less extensive than a traditional air conditioner system, but can work just as well to cool small spaces. With a typical HVAC system, the air is cooled in a central location and then funneled through a system of ducts in the walls and out the vents. In a ductless system, you have a compressor and a wall unit. The compressor is outside and pushes the cold air, which is then brought directly into the wall unit. This is very similar to the power and cooling provided by a window air conditioning unit, but can be more visually appealing.
What's the Ideal Situation for Ductless?
Depending on your home's construction, ductless systems can make sense in a variety of applications, including whole-house heating and cooling. But there are certain situations where ductless has a clear advantage:
New additions: garage apartments, bonus rooms, sunrooms. The main benefit of ductless here is that it will be properly sized for the new space and won't steal air from other rooms or overload your old HVAC system.
Downsizing efforts for larger homes. Implementing a ductless system in the room you use the most and setting the rest of the house's thermostat to minimum is a cost savings.
Giving support to a room with specific heating/cooling problems, for example a small kitchen that heats up quickly.
Adding AC to a house with no existing ductwork. Ductless isn't cheap, but it's less expensive than adding ductwork to an existing house.
If you decide to go ductless, it's important to choose one that is the right size for the area you want to cool and have it properly installed. There are many things you have to pay attention to when installing a ductless system, such as properly sealing the wall unit and properly sizing the hole for the unit. To find out more about ductless AC unit installations and if this is the right system for your family, give one of our certified technicians a call at 898-COOL to discuss your options.
"Man, Tommy and Travis came out and replaced our furnace and AC units. They were professional, honest, and did quality work. I wouldn't trust another business to work on the essentials of my home!"
"Great company, from the staff and technicians to management. Great, knowledgeable folks. You won't go wrong with this company for your heating and A/C needs. They're the only ones I call."