Preventing Frozen Pipes
With temperatures this cold, homeowners are burrowing down under covers, sipping hot chocolate and trying to stay warm...and we don't blame you! But there is one thing you need to be sure not to neglect during these below freezing temps: your water pipes! Why? Because when water freezes, it expands, which can cause pipes to burst—flooding your home, ruining your drywall, and costing thousands of dollars in repairs. In fact, if pipes aren't properly protected they tend to freeze whenever outside temperatures drop below 20 degrees Fahrenheit. What does it mean for you if your pipes burst? According to State Farm Insurance, the average claim for burst pipe damage runs $15,000.
We've put together a few tips to help you keep the water flowing during these frigid temperatures.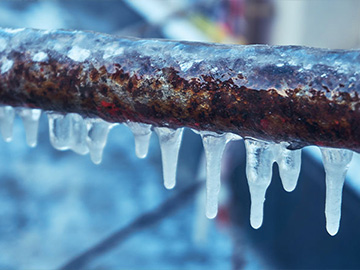 Keep the heat on. If you are leaving for the day or on a trip, keep the heat on. The heat does not have to be kept as high as you normally would keep it if you were actually in the property, but keeping it set above 50 degrees Fahrenheit is a good idea. This should provide enough heat to keep the pipes warm and to prevent any water inside from freezing.
Allow the faucet to drip. If you are afraid a pipe will freeze, you can allow the faucet to drip slightly. Allowing the faucet to be open like this will relieve pressure in the system. If a pipe freezes, it is actually the pressure that is created between the blockage and the faucet that will cause the pipe to burst. Allowing the faucet to be open will prevent this pressure from building up and, keep the pipe from bursting.
Keep the cabinet doors open . Pipes are often located in cabinets. When the temperatures drop, it is a good idea to keep these cabinet doors open so that the heat from the rest of the house can keep the pipes warm.
Seal up cracks and holes. You should caulk any holes or cracks that exist near pipes. This should be done on both interior and exterior walls. Doing so can help keep the cold air out and the warm air in.
Apply heating tape . For pipes that are easily accessible, the electrical heating tape may be an option to keep them from freezing. This tape can be applied directly to the pipe.
Add extra insulation. Pipes that are located in areas that do not have proper insulation, such as basements or attics, may need extra insulation to keep from freezing. Pipes in basements or attics are not the only ones that may not be properly insulated from the cold. If you have had a problem with pipes freezing anywhere in your home, extra insulation could be the cure.
These tips could help prevent frozen pipes during these crazy cold temperatures However, if you do end up with a frozen pipe, simply give us a call and we'll send out one of our certified plumbers to help!
"Man, Tommy and Travis came out and replaced our furnace and AC units. They were professional, honest, and did quality work. I wouldn't trust another business to work on the essentials of my home!"
"Great company, from the staff and technicians to management. Great, knowledgeable folks. You won't go wrong with this company for your heating and A/C needs. They're the only ones I call."