Sump Pump 101
You may be asking yourself "Do I need a sump pump in Dayton, Ohio?" Or "What exactly is a sump pump?" A sump pump is a pump used to remove water that has accumulated in your basement or crawlspace. Its job is to keep the area dry and prevent flooding. It pumps water out and away from your foundation.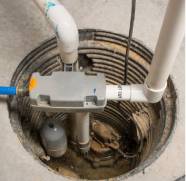 You should have a sump pump in Dayton, Ohio if….
Your basement has flooded before.
You live in a flat or low-lying area with soil that readily traps water.
You have a finished basement that contains costly items you want to protect against water damage and subsequent mold growth.
You have past water problems
Sump pumps don't prevent water from accumulating, but they can go a long way in controlling water in your basement.
A flooded basement or crawlspace can result in thousands of dollars in damage - not to mention the potential loss of treasured or otherwise important items. Whether you live in an area prone to flooding, or just have a washing machine in the basement, a sump pump is a particularly wise investment for your home and your peace of mind.
There are two types of sump pumps – pedestal and submersible. Submersible pumps are put underwater in your sump pump basin. Pedestal pumps are positioned with the pump motor out of the water, above your sump basin.
If you think you need a sump pump in your basement or you have an older one you need replaced, give us a call and we can help you!
"Man, Tommy and Travis came out and replaced our furnace and AC units. They were professional, honest, and did quality work. I wouldn't trust another business to work on the essentials of my home!"
"Great company, from the staff and technicians to management. Great, knowledgeable folks. You won't go wrong with this company for your heating and A/C needs. They're the only ones I call."