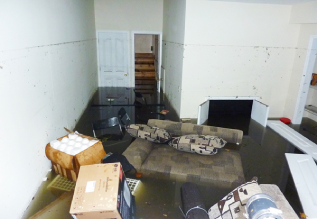 Your sump pump stands between your home and a disaster waiting to happen. What is preventing your sump pump from failing when you need it most? For example, let's say there is a major thunder storm, it's raining cats and dogs and the electricity goes out? Will your sump pump work... or will your basement start to flood?
First of all, consider this. To address this common issue, you need a plumber, an electrician and if your sump pump fails, you very likely will need an HVAC - Furnace repair technician. The loss of electricity is the biggest reason sump pumps fail and it can happen when you need it the most. We don't intend to let that happen and the only company you need to call is Choice Comfort!
Back-up Sump Pump Systems
Your sump pump is very likely plugged into a nearby outlet. If the power goes out and you have no backup power, then your house is a disaster waiting to happen. Choice Comfort can install simple battery back systems for sump pumps and watchdog features that alert you when your sump pump is not functioning.
We also have installed backup generator systems for many of our clients and of course in that situation, the sump-pump is connected to the backup power system.
Unfortunately, most people don't even think about their sump pumps until they fail to work. Considering the amount of property that one device is protecting in your home, it's time to protect the sump pump itself - and make absolutely sure it works when you need it to.
"Man, Tommy and Travis came out and replaced our furnace and AC units. They were professional, honest, and did quality work. I wouldn't trust another business to work on the essentials of my home!"
"Great company, from the staff and technicians to management. Great, knowledgeable folks. You won't go wrong with this company for your heating and A/C needs. They're the only ones I call."