The Best Cooling System for Your Home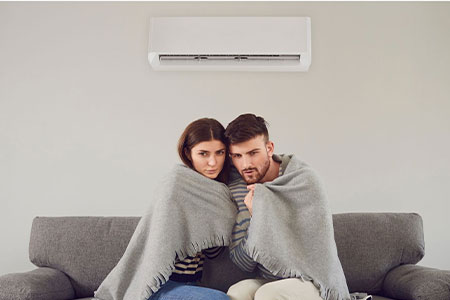 Warm temperatures are finally here again, and now you must deal with keeping your house cool on the hottest days. If you have spent years with open windows and fans doing little to nothing and would like to install a system that provides cooling for your family, you have options.
Central Cooling
If you have a furnace already, this option is the simplest and most common choice. It consists of a duct coil connected to an outdoor condensing unit. The biggest benefit is that you can cool your entire house using the same system that provides heating.
Ductless Mini Split
If you do not have a central furnace with ductwork, a ductless mini split can provide cooling to one room at a time. If you have an open concept layout, one unit can take care of your kitchen, living room and dining room if it's sized right. Smaller rooms will need separate units which is the main downside of a decentralized system. Multi split units, which have one outdoor unit and multiple indoor units can serve most or all your house depending on how much you are willing to spend and how many spaces need cooling.
Window Unit
Window units are packaged cooling systems that steal a portion of your window to provide cooling to that space. As with the ductless mini split, you are limited to only the space in which the unit is installed. In general, they are not aesthetically pleasing but their lower cost makes them an attractive option for a homeowner on a budget.
Evaporative Cooling
As the name implies, evaporative coolers work by transferring heat through the evaporation of water. These units do not need refrigerant but require a continuous flow of air that is dry. If you live in a hot and humid climate or are trying to cool an enclosed space, this is not the system you need. For drier climates with open windows or mechanical extraction and air intake, consider this type of cooling for your home or special area like a workshop.
Geothermal
In general, geothermal cooling works hand in hand with heating so if the climate where you live is very hot, you may not benefit from this system except under certain circumstances. Geothermal cooling is expensive but with the right equipment and conditions, can benefit you and your family for many years with minimal cost beyond the initial installation. You will need to discuss this option with a professional well-versed in this technology. If you need help deciding about the best cooling for your home, give us a call and we can help you get the temperature down as the days heat up.
"Man, Tommy and Travis came out and replaced our furnace and AC units. They were professional, honest, and did quality work. I wouldn't trust another business to work on the essentials of my home!"
"Great company, from the staff and technicians to management. Great, knowledgeable folks. You won't go wrong with this company for your heating and A/C needs. They're the only ones I call."