Thermal Imaging Helps Make Inspections More Efficient
Remember the Terminator with its cool infrared technology? What would you say if I told you that Choice Comfort Services has also gone infrared? All of our technicians are now equipped with Flir One Pro infrared cameras which are allowing us to see heating, cooling and plumbing issues in a whole new way.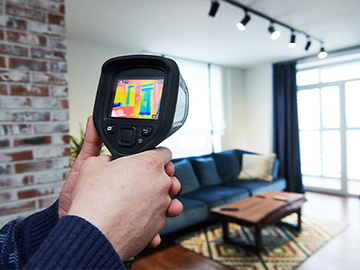 These cameras are able to check air balance easier, locate air leaks and misrouted ductwork faster, and check for weatherization and other wasteful energy loss issues to confirm it's not the furnace or AC that's the culprit. Plus our plumbers can use the camera to find clogs in drain pipes, locate hot and cold water lines in walls, and more. Thermal imaging cameras reveal temperature changes and differences in real time that are invisible to the naked eye. This allows testing without requiring destruction or contact.
A thermal imaging camera detects small temperature differences and uses an algorithm to display a picture of these differences so that we can see them. They work indoors and outdoors, and on wood, concrete, drywall, electrical wiring etc., and look and operate much like a camcorder.
Some areas we can test using our thermal imaging cameras:
Infrared cameras are useful for a variety of common tasks:
Determining if a condenser's coils are plugged or if they are low on refrigerant or leaking refrigerant.
Spotting circuits that have blown fuses or bad connections.
Checking coil temperatures to make sure these systems are operating within their designed specifications.
Detecting air pockets at high points in piping and coils
Detecting which coils are operating and whether there are any abnormal areas
Indirectly detecting air and fluid leaks
Estimating operating temperature ranges of process air and fluids
Detecting compromised duct and piping
Determining time needed for equipment operation to reach a steady state
Rapidly cross-checking duct/coil temperatures against BAS control points during commissioning
Thermal imaging cameras are just another differentiator we have at our fingertips when bringing you the best options in comfort.
"Man, Tommy and Travis came out and replaced our furnace and AC units. They were professional, honest, and did quality work. I wouldn't trust another business to work on the essentials of my home!"
"Great company, from the staff and technicians to management. Great, knowledgeable folks. You won't go wrong with this company for your heating and A/C needs. They're the only ones I call."