Should You Repair or Replace Your Air Conditioner?
The answer to this question depends on what state of function, effectiveness, or disrepair your air conditioner is in currently. You should first compare different AC-related scenarios that call for various types of AC service.
Ask these questions. Does your AC break down and quit frequently? Is your AC unit, either outside or inside, too old or outdated to consistently cool? Has cooling your home or business monthly excessively costly compared to previous years? Given that, is repair still an option?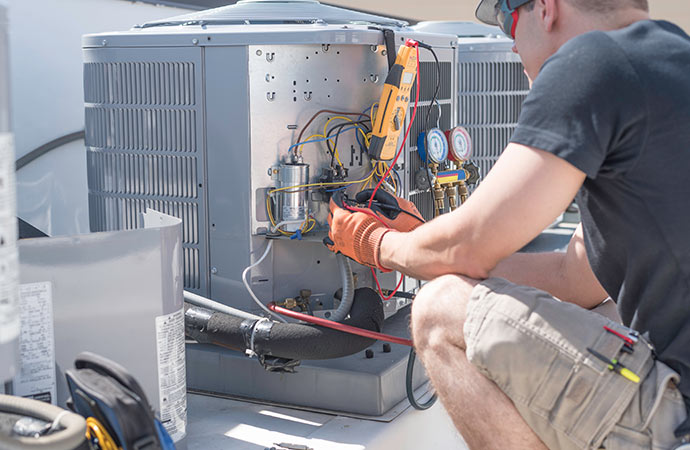 How Often Should You Repair Your AC?
There are signs you should repair your air conditioner. The most common indicator is excessive noise, dust or musty air, and cooling inconsistency.
If any of these are consistent with your air conditioning system, it's recommended that you repair your AC as soon as possible. Even without seeing these signs repeatedly, yearly repair or maintenance of your AC results in healthier indoor air, cleaner surfaces, contents, and a fresher environment.
When Should You Replace Your AC System?
Threee common signs that your air conditioning system should be replaced entirely include:
Unit is 10-15 years old: Ten to 15 years, on average, is the most common lifespan of an air conditioning system. If it has exceeded that time limit, you should probably consider replacing it entirely.
Breakdowns: If you kept up your air conditioner's regular maintenance, it's quite unusual for it to face regular breakdowns. This is a common symptom of an air conditioning system needing replacement.
Energy cost spikes: Functioning AC systems more often mean stable bills. Sudden, sharp increases and general ineffectiveness leave open the possibility that your AC should be replaced, or at least overhauled.
To learn more about if you should repair or replace your air conditioning system, call Choice Comfort today at 937-982-5055 or contact us online to book an appointment with one of our team members.
"Man, Tommy and Travis came out and replaced our furnace and AC units. They were professional, honest, and did quality work. I wouldn't trust another business to work on the essentials of my home!"
"Great company, from the staff and technicians to management. Great, knowledgeable folks. You won't go wrong with this company for your heating and A/C needs. They're the only ones I call."