Dishwasher Leak Repair in Dayton & Huber Heights, OH
Leaking dishwashers are frustrating and can leave severe damage. A slow drip or constant gush of water can harm kitchen floors, cabinets, even neighboring rooms. Choice Comfort Services is Ohio's proven provider of advanced dishwasher leak repair and cleanup.
Clogged drains, faulty valves, or damaged water supply lines are among plumbing issues that can cause dishwasher leaks. Our expert technicians can alleviate your dishwasher repair and cleanup concerns efficiently and effectively.
We also assist customers in Beavercreek, Kettering, Troy, Miamisburg, Dayton, West Milton, and throughoutour Ohio service area. Calls us today at 937-898-4328 or contact us online to consult with a Choice Comfort dishwasher leak repair expert.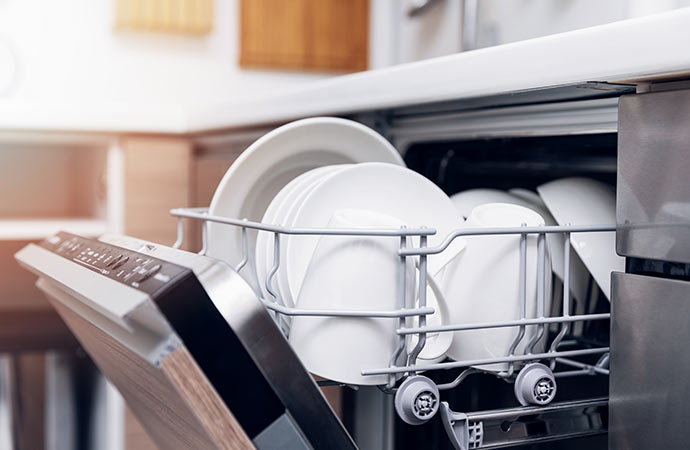 Signs of Dishwasher Leaks | Call Choice Comfort
To avoid floor, cabinet, or tile damage, turn to Choice Comfort Services for dishwasher leak repair and cleanup. Our expertise is available when you see the following:
Pooling or flooding: This obvious sign will occur near or underneath your dishwasher, indicating a leak should be addressed. The issue can be with water going into the unit, or draining out.
Wet cabinets or flooring: Check for signs of moisture or water damage near your dishwasher. Wet cabinets, warped flooring, or discoloration suggest a dishwasher leak, or previous insufficient drying.
Visible water stains: Inspect inside your dishwasher for visible stains. Check walls, racks, and door seals for discoloration or watermarks that can indicate a clog or drainage issue.
Trust Choice Comfort For Most Effective Dishwasher Leak Repair in Kettering
A leaky dishwasher disrupts your day, but Choice Comfort Services can help you hit the reset button. Our skilled technicians are ready to restore your dishwasher's best performance and address any water damage with our dishwasher leak repair and cleanup. We use advanced techniques and equipment to deliver the best results, service, and complete satisfaction. Let us assist you with AC, heating, plumbing, and electrical services. Call us today at 937-898-4328 or contact us online to book an appointment with a Choice Comfort team member.
"Man, Tommy and Travis came out and replaced our furnace and AC units. They were professional, honest, and did quality work. I wouldn't trust another business to work on the essentials of my home!"
"Great company, from the staff and technicians to management. Great, knowledgeable folks. You won't go wrong with this company for your heating and A/C needs. They're the only ones I call."