B&K Heating, INC A Choice Comfort Services Company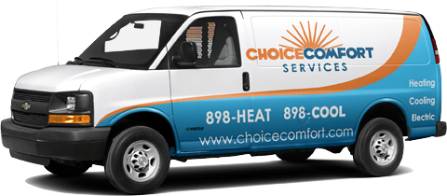 It is with great pleasure that we share some exciting developments! We have been working diligently to increase our level of heating and air conditioning to you, our valued customer. To that end we would like to introduce you to Choice Comfort Services, a trusted service provider who has a stellar reputation of delivering top quality service to their HVAC customers. We have partnered with Choice Comfort Services to give you more choices for your home comfort needs.
Our skilled technicians are ready for service calls, 24-hour emergency calls, gas or oil furnace, air conditioner, heat pump, hot water boiler, or geothermal system repairs and installations. We are at your service – to provide you with the comfort you expect out of your home heating and cooling system.
"Man, Tommy and Travis came out and replaced our furnace and AC units. They were professional, honest, and did quality work. I wouldn't trust another business to work on the essentials of my home!"
"Great company, from the staff and technicians to management. Great, knowledgeable folks. You won't go wrong with this company for your heating and A/C needs. They're the only ones I call."