Fact or Myth? A Programmable Thermostat will save me money!
We hear this question a lot. The short answer is Yes and No. If used properly, it can be a significant part of your energy savings in your home. However when it is misused it can often lead to higher expenses.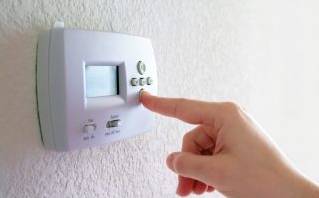 They hold tremendous potential when it comes to saving the average homeowner money. In order to assure you are actually saving money, you need to know how to use it correctly.
Most homeowners don't even realize that according to Energy Star, 45% of a home's energy comes from your HVAC system. That averages out to be about $2,000-$2,500 annually. As most homeowners know, not every room in your home is occupied at one time. So often when you are heating or cooling your entire home, you are heating and cooling rooms that no one will be using.
If you are able to reduce your heating by 10 degrees at night, you are able to use 10% less energy. That is a big difference! It can seem shocking but you do not need to heat your home as much when the household is asleep. The idea behind the programmable thermostat is that you can reduce overall energy usage when the household is gone during the day and at night when everyone is sleeping. This continued cycle of use will regularly reduce your energy usage by 10%.
We typically recommend setting your thermostat to 68 degrees Fahrenheit when you are home and anywhere from 8-12 degrees lower when you are away (that includes vacation!). You are also able to "set" your thermostat to change at certain times so if your household gets up at 7am, you can set it to be raised by the time everyone is up and moving. During summer months, we recommend having it set to 78 degrees Fahrenheit. Remember that you can change the temperature based on the time of day!
Just remember, the closer the internal and external temperatures are, the less your system has to work. Making sure your home isn't heating or cooling when it doesn't need to also reduces the work load on your HVAC equipment. This means longer life spans and less conversations about repairing or replacing parts.
Choice Comfort serves small businesses in Vandalia, Tipp City, Englewood, Kettering, Troy, Beavercreek, and other surrounding towns in Dayton, Ohio. Give us a call at 937-898-4328 today!
"Man, Tommy and Travis came out and replaced our furnace and AC units. They were professional, honest, and did quality work. I wouldn't trust another business to work on the essentials of my home!"
"Great company, from the staff and technicians to management. Great, knowledgeable folks. You won't go wrong with this company for your heating and A/C needs. They're the only ones I call."