HVAC Systems for Office Buildings in Dayton, Vandalia, Troy, & Kettering, OH
Understanding your office building's HVAC system is important in terms of keeping your business comfortable for clients, customers, and co-workers on a 24/7/365 basis. However, a flawed installation or poor maintenance practices for your HVAC system can be costly to your bottom line. That is why you should trust Choice Comfort Services is to install & maintain your office HVAC system in Dayton, Kettering, Oakwood, Pleasant Hill, Englewood, and throughout our service area.
We can solve any and all of your issues related to commercial HVAC systems in offices, industrial parks, commercial properties, or warehouses in Vandalia, Troy, or Tipp City. Choice Comfort serves both residential and commercial customers. To learn more, give us a call at 937-982-5055 or click here to make an appointment today. In addition, using Choice Comfort for your preventative maintenance program will save you money in energy costs, repairs, and downtime.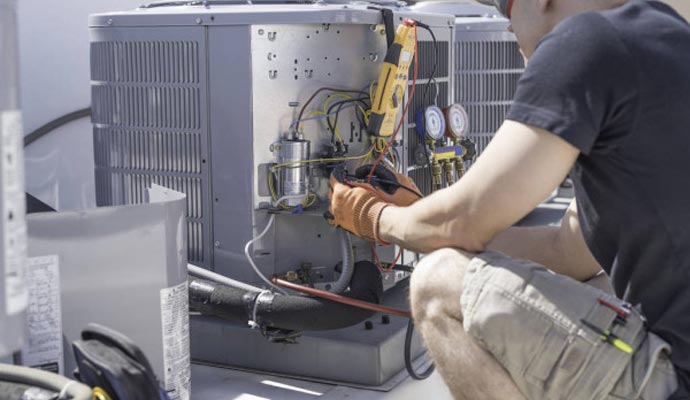 Maintenance Programs for Office HVAC Systems
Along with maximizing the lifespan of your HVAC system, proper regular maintenance by Choice Comfort technicians can lower energy costs, reduce the need for costly repairs and downtime, and guarantee constant comfort for your clients and employees. Our preventative maintenance program includes tasks such as:
Spring and Fall system checkups that include:

Cleaning and inspecting all outdoor components
Refrigerant levels are measured and recharged as needed
Blower, belts, evaporator coil, and other indoor cooling system components are inspected and cleaned
Burner assemblies, ignition systems, and other indoor heating system components are inspected and cleaned
Control systems are tested

Air Filters are checked and changed regularly, according to the manufacturer's recommendations
Thermostat programming is checked and reset seasonally
Monthly visual inspection of thermostats, drip pans, and drain lines
Trust Choice Comfort to Install Your Office HVAC System in Dayton & Vandalia, Ohio
For more than 25 years, the expert technicians of Choice Comfort Services have been providing HVAC installation & repair services for residential & business properties throughout our service area. That includes installing office HVAC systems. To learn more, call 937-982-5055 or click here to make a service appointment today in Brookville, New Lebanon, Centerville, Fletcher, or Vandalia. When you choose Choice Comfort, the benefits include:
100% Satisfaction Guaranteed
24X7 Services
Fully-stocked service and maintenance vehicles
Expert maintenance, installation, and repair technicians
More than 25 Years of stellar Customer Service
Home efficiency testing and solutions
Promotional Financing
"Man, Tommy and Travis came out and replaced our furnace and AC units. They were professional, honest, and did quality work. I wouldn't trust another business to work on the essentials of my home!"
"Great company, from the staff and technicians to management. Great, knowledgeable folks. You won't go wrong with this company for your heating and A/C needs. They're the only ones I call."