Packaged Rooftop Systems Installation in Dayton, Ohio
A packaged rooftop HVAC unit houses all parts of the system in one metal cabinet. The evaporator coil, condenser, and compressor are all housed together to save space from being used inside. The packaged rooftop system provides a really convenient & comfortable heating and cooling support for your commercial properties; however, installing such a system is not everybody's job. Therefore put your trust only in the experts. Choice Comfort Services is your go-to company for the most efficient packaged rooftop systems Installation in Dayton, Ohio.
The comfort of the employees, customers, and the security of the inventory system is the life & blood of a business. At Choice Comfort Services, we understand this fact. Therefore, diagnosing a problem and providing the required repairing for your commercial heating & air conditioning systems as quickly & efficiently as possible- is our top priority. When a system is beyond repair, we offer new HVAC system installations to get you up & running in comfort in no time.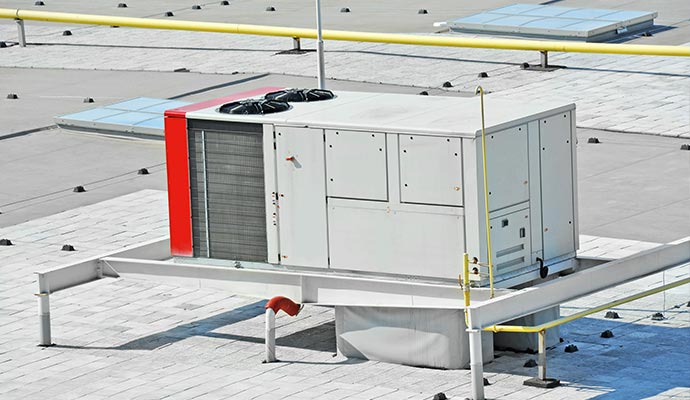 Benefits of a Packaged HVAC Rooftop System
Efficiency - Packaged units are assembled in factories, which typically means they are more efficient than split systems.
Easy Installation - As packaged units are only one single unit, they are easier and more versatile to install. This also results in less expensive installation costs and a smaller footprint on your property.
Less Invasive - Because the package system is in one all-inclusive unit, there is no need for additional refrigerant lines.
SEER – This is an acronym that stands for Seasonal Energy Efficiency Ratio, which in this unit ranges from 13 to 18, and is considered a good rating.
Quiet - As the entire system is located outside, you experience no noise inside your home.
Trust Choice Comfort Services
100% Satisfaction Guaranteed
24X7 Services
Fully-stocked service and maintenance vehicles
Expert maintenance, installation, and repair technicians
More than 25 Years of stellar Customer Service
Home efficiency testing and solutions
Promotional Financing
The expert technicians of Choice Comfort Services have been providing HVAC installation & repair services for more than two and a half decades now, for your residential & business property within our service area. Do not hesitate to contact us online or give us a call today at 937-898-4328 for more information or to make an appointment in Beavercreek, Covington, Dayton, Laura, Miamisburg, and other areas throughout the entire Northern Miami Valley in Ohio.