Managing Humidity for Maximum Comfort
No matter what type of climate you live in, the levels of humidity in the air can affect the comfort of your home, as well as the proper functioning of your heating and air conditioning units. Managing ideal indoor humidity should be a priority for every homeowner, especially when it comes to tailoring your heating and cooling preferences to meet your personal home needs. Having the right level of moisture in your home at all times will ensure that your home HVAC systems are working efficiently for you. In other words, with the right humidity balance, your home will feel cool in the summer and warm in the winter. However, if levels are not properly maintained, your home will not only feel uncomfortable to you, but your household may also become susceptible to respiratory disorders or chemical reactions. Additionally, improper humidity levels can cause damage to both the inside and outside of your home.
Differences between low and high humidity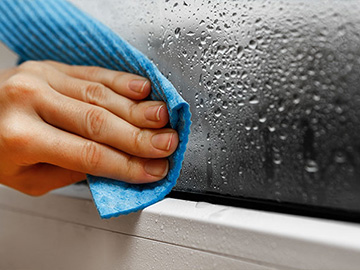 Frankly, the optimum humidity level in your home depends on YOU: your personal preferences, the type of clothing you wear, and the level of physical activity you maintain. To address problems in your home humidity levels, you may need additional equipment, such as a whole home ventilation system or a humidification system. These systems are designed to increase your home comfort and decrease your risk of humidity related health issues.
Low humidity can cause:
Static electricity
Dry, itchy skin and hair
Susceptibility to colds and respiratory illness
Viruses and germs thrive
Damage to wood furniture and floors, furniture split and crack
Paint can chip
Electronics can get damaged
High humidity can cause:
Mold growth
Wet insulation
Rot on woodwork
Muggy conditions
Sleep discomfort
The Importance of Managing Home Humidity Levels in Different Seasons
Seasonal humidity can affect indoor home comfort, so managing the humidity in your home during all seasons can make the time you spend there much more enjoyable.
In the winter, or in regions that tend to be cold for most of the year, humidification, or adding moisture, is essential, as the colder air is unable to hold much moisture and tends to be dry. Again if you have a humidifier, you may want to manage humidity by turning it on in the winter. An indoor humidity level of 30 - 40% is recommended in the winter months.
During the summer months, or in warmer climates, removing moisture becomes a priority. For climates where the air tends to be very warm and moist for most of the year, the importance of extra dehumidification - or taking moisture out of the air - can never be underestimated. Without this addition, your home will not only become uncomfortable, but the presence of too much humidity can encourage mold and bacteria growth. A humidity level below 60% is recommended by most experts for the summer months.
Considerations for Ideal Indoor Humidity
Where you live isn't the only factor that can affect your humidity levels. Standard home functions, such as steam produced by showering or cooking, can impact your home's humidity levels.
To keep your home feeling comfortable, especially during the winter, it is recommended to keep the temperature of your heating units around 68 degrees F, with relative humidity at the recommended levels above. By installing a whole house humidifier, you can monitor and control the humidity of your home all year long.
If you are concerned about managing home humidity levels in your home, consult with a trusted, professional heating and cooling expert to ensure that your systems are keeping your home environment healthy and comfortable.
"Man, Tommy and Travis came out and replaced our furnace and AC units. They were professional, honest, and did quality work. I wouldn't trust another business to work on the essentials of my home!"
"Great company, from the staff and technicians to management. Great, knowledgeable folks. You won't go wrong with this company for your heating and A/C needs. They're the only ones I call."