Reliable Furnace Inspection Services in Dayton, Ohio
Don't forget to check your furnace when you are inspecting your home and getting ready for fall. An annual furnace inspection will increase your HVAC system's lifespan and reduce energy costs. Also, it prevents major furnace breakdowns and identifies small issues before they grow into larger ones.
So, it is important to inspect the furnace of your house annually and Choice Comfort Services will help you do that. We are a one-stop solution for solving all your furnace-related problems. Our technicians are trained to properly inspect your building's furnace.
We are renowned for providing a 100% customer satisfaction guarantee among the people of Dayton, Beavercreek, Miamisburg, Bellbrook, Clayton, and surrounding areas. Our emergency response team is available 24/7 to answer your valued queries. So, what are you waiting for? Pick up your phone and dial 937-982-5055 to book our appointment.
Know The Top Advantages of Professional Furnace Inspection Services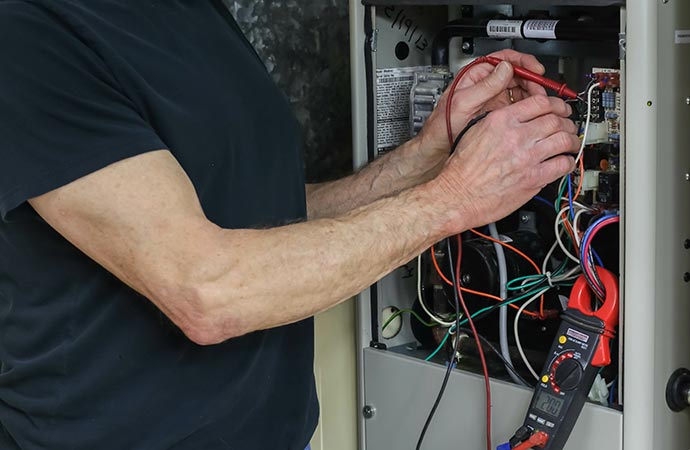 Whether it is new or old, if you keep your home's furnace in good shape, it will serve your loved ones well. Let's check out some advantages of professional furnace inspection services:
Extends the life of your furnace: If you don't have your furnace inspected once a year, you're more likely to have a breakdown. Our trained technicians can very easily discover minor issues during a furnace inspection that, if ignored, could require major repair.
Cleans built-up dirt and rust: A thorough furnace inspection involves looking for dirt and rust that can accumulate on your furnace's burners. This kind of buildup can result in pockets that entrap gas and lead to hot spots on the heat exchanger of your furnace.
Prevents leaks of Carbon Monoxide: Gases such as carbon monoxide can get into your house when your furnace's heat exchanger develops a crack. Our professional furnace inspection services can help you to prevent leaks of carbon monoxide.
"Man, Tommy and Travis came out and replaced our furnace and AC units. They were professional, honest, and did quality work. I wouldn't trust another business to work on the essentials of my home!"
"Great company, from the staff and technicians to management. Great, knowledgeable folks. You won't go wrong with this company for your heating and A/C needs. They're the only ones I call."