Install Smart Thermostats to Save Your Electric Bill in Dayton, Ohio
If you're searching for a simple solution to save energy in your house, one of the most popular options is a smart thermostat. Smart thermostats are not your typical thermostats—while they do sense the temperature and turn on or off your heating and cooling system, a smart thermostat does much more.
Today's smart thermostats can communicate with other appliances or devices in your house, provide energy usage data, be managed remotely, and even make operating decisions that maximize efficiency without sacrificing comfort.
While you may believe your thermostat is great as-is, the truth is that you may be losing out on the most significant benefit these systems have to offer: energy efficiency! These devices have been demonstrated to pay for themselves rapidly in terms of energy savings, sometimes in as little as a few months!
If you haven't already upgraded to a Wi-Fi thermostat or a smart thermostat, make the switch today. Call our team today at 937-898-4328 for a free estimate!
Install a Smart WIFI Thermostat and Discover the Convenience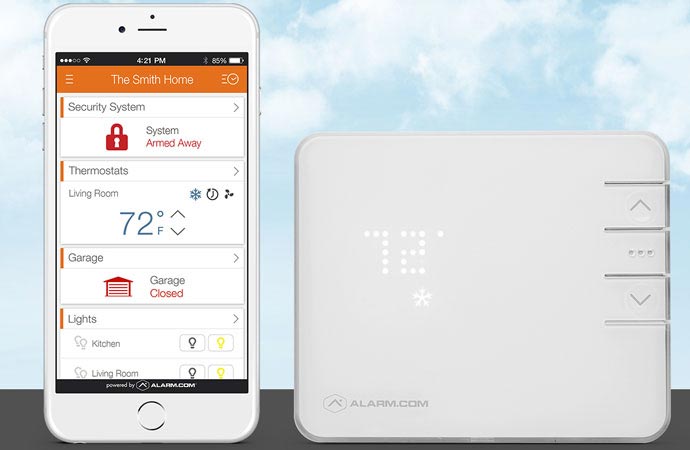 If you're unfamiliar with WIFI thermostats, you're missing out on a major opportunity. These convenient technologies elevate the level of convenience in your house. You can now effortlessly regulate your thermostat from anywhere thanks to these innovations. If you're leaving for vacation and forget to turn down your thermostat, you may use your phone to do so from your car.
Additionally, these thermostats are programmable, which eliminates the need to constantly alter the temperature throughout the day. The convenience and accessibility of these thermostats, in addition to the potential for energy savings, make them attractive.
We provide high-quality, professional WIFI thermostat installations throughout Beavercreek, Bellbrook, Brookville, Casstown, Centerville, Clayton, Covington, and nearby Ohio areas.
We have certified professionals to install your thermostat so you can start saving on your air conditioning and heating bills as soon as possible. Say sayonara to your current HVAC thermostat and upgrade to a new smart WIFI thermostat.
Less Strain on Your Electrical Grid
Heating and cooling use a significant amount of energy, which a smart thermostat helps to reduce. However, did you realize that conserving energy also reduces the load on your electrical equipment? That is true! Our smart thermostat that draws less current through your electrical system implies reduced wear and tear on your breakers and cables, as well as numerous other benefits. Similarly, a system that runs less frequently maintains better conditions, which means it does not require additional current and voltage from your electrical grid to work.
We also provide services for AC Installation, AC Repair, Whole House Humidity Control, Furnace Repair, other commercial and maintenance services. Contact us today at 937-898-4328 for more information or contact us online for your thermostat options or to begin a service request online for a smart thermostat replacement.