Spotlight Repair or Replacement in Dayton & Kettering, OH
Spotlights are used for performance venues, schools, churches, home decoration, security systems or anywhere to add effect, grab attention, or lift darkness. These specialized lighting systems can malfunction and require professional attention.
Choice Comfort Services diagnoses and repairs spotlight systems, restoring their function and lighting for whatever purpose they serve. We have been Ohio's spotlight repair specialist for more than 25 years in Dayton, Huber Heights, Kettering, Trotwood, Fairborn, and more cities in our Ohio service area. For professional, reliable spotlight repair, call us today at 937-898-4328 or contact us online to consult a Choice Comfort spotlight or landscape lighting repair expert.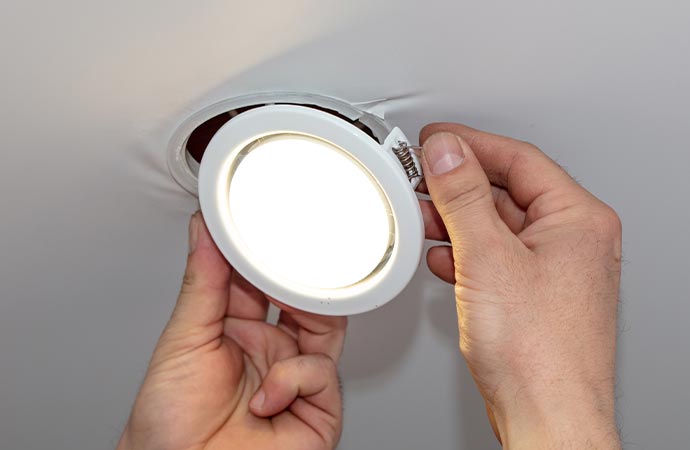 We Restore the Spotlight in Vandalia
Choice Comfort Services is Ohio's spotlight repair specialist when your lighting system is experiencing the following:
Malfunctioning lights: When spotlights stop working, flicker, or exhibit inconsistent performance, they require repair to restore their functionality.
Dim or uneven lighting: If spotlights emit weak or uneven light, it could indicate issues with bulbs, reflectors, or lenses, necessitating repair.
Physical damage: Spotlights can suffer damage from accidents, weather, or wear and tear. Repair is essential to address cracks, dents, or broken parts.
Electrical issues: Spotlights may experience electrical problems like short circuits or faulty switches, requiring professional repair to ensure safety and proper operation.
Overheating: If spotlights overheat, they can pose a safety risk and damage internal components, necessitating repairs and potential modifications to improve ventilation.
"Man, Tommy and Travis came out and replaced our furnace and AC units. They were professional, honest, and did quality work. I wouldn't trust another business to work on the essentials of my home!"
"Great company, from the staff and technicians to management. Great, knowledgeable folks. You won't go wrong with this company for your heating and A/C needs. They're the only ones I call."