Updated Ceiling-Mounted Light Fixtures in Dayton, OH
Ceiling-mounted light fixtures are popular for their practicality, versatility, and aesthetics. They provide excellent overhead lighting, illuminating spaces evenly as primary light sources for various activities. By adjusting light intensity and choosing the right fixture, they create inviting or energizing atmospheres, enhancing the room's overall ambiance.
However, over time, building codes and safety regulations may change, and outdated ceiling-mounted light fixtures might not meet the latest safety standards. Updating to newer fixtures ensures that your lighting is in compliance with safety codes and reduces the risk of electrical hazards. Fortunately, Choice Comfort Services provides assistance with updating ceiling-mounted lighting and other lighting systems in Dayton, Kettering, Trotwood, Huber Heights, Fairborn, and other cities nearby. Just dial 937-898-4328 or click here to schedule an appointment.
Why Us For Updated Ceiling-Mounted Light Fixtures?
Turn to Choice Comfort For modern updated ceiling-mounted light fixtures that enhance your home with the following: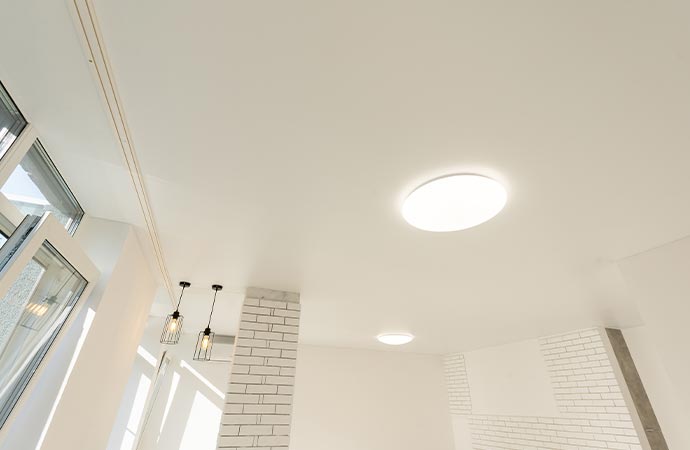 Safety and compliance: By updating, fixtures are brought in line with present safety regulations and building codes, thereby minimizing the potential for electrical hazards.
Energy efficiency: Newer fixtures often use energy-saving LED or CFL bulbs, leading to lower energy consumption and reduced utility costs.
Superior lighting quality: Upgrading enhances brightness, color rendering, and dimming capabilities, providing better overall lighting quality and comfort.
Modern designs: Updating fixtures aligns with current interior design trends, giving spaces a fresh and modern look.
Functionality: Newer fixtures may come with smart controls, motion sensors, or adjustable features, enhancing convenience and customization.
Durability: Updated fixtures are more reliable and long-lasting, reducing the need for frequent replacements and maintenance.
Advanced technology: Updating allows integration with smart lighting and home automation systems, enabling remote control and automation.
Adapting to Needs: Updated fixtures can cater to changing lifestyles and activities, ensuring lighting suits current preferences.
Enhance property value: Updated fixtures add value to the property and can be appealing to potential buyers or tenants.
"Man, Tommy and Travis came out and replaced our furnace and AC units. They were professional, honest, and did quality work. I wouldn't trust another business to work on the essentials of my home!"
"Great company, from the staff and technicians to management. Great, knowledgeable folks. You won't go wrong with this company for your heating and A/C needs. They're the only ones I call."