Leaky Hot Water Heater in Dayton, Ohio
Water heaters are one of the most underrated, but also necessary, items in a your house. Neglecting maintenance or repair becomes uncomfortable and inconvenient, but a water heater in need of repair or replacement can be unsafe, especially one powered by natural gas. Your water heater needs maintenance in the same way that any other home comfort system does, despite the fact that it is meant to endure. Water heater leaks aren't meant to be ignored.
So if you are a resident that lives in Troy, Dayton, and other cities in Ohio, and in need of repairs for a leaky hot water heater, then call Choice Comfort today at 937-898-4328. Our team of professionals will come to your house, equipped with the best quality equipment and tools to repair your water heater in no time.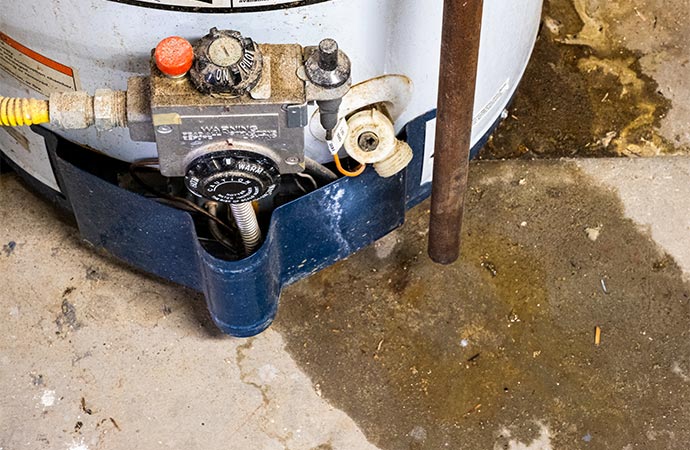 Choice Comfort is Leaky Hot Water Heater Expert
Leaky hot water heaters, left unchecked, can result in a number of home hazards. A few of them include:
Property damage: Water leaks have the potential to ruin your carpet, bend floors, and even trigger the growth of mold and mildew. This may be harmful to your health if left untreated. Water that has accumulated around your water heater should be completely cleaned. It is important to keep an eye on any gathering water and to keep the area as dry as possible.
Rusty, corroded plumbing: If the pipes that go to and from your water heater get rusted, they may deteriorate to the point that water begins to seep through them, which is dangerous. Not only does this have an impact on your water heater, but drinkable water has the potential to be contaminated by bacteria and pollutants.
Tank pressure: It's possible that a buildup of water pressure in your water heater can result in an explosion. The presence of a leaky water heater may indicate that water pressure has built up to the point that it no longer has somewhere to go. Additionally, if the water temperature is adjusted too high or if the relief valve is broken or malfunctioning, an emergency situation may arise.
Trust Choice Comfort For Superior Water Heater Leak Repair in Kettering
Choice Comfort is the only company in Kettering, Tipp City, and more cities across Ohio service that provides superior water heater maintenance, installation, and repair. We provide plumbing services for faucet repair and installation, sump pumps, and more at affordable rates. For a free estimate, call us today at 937-898-4328 or contact us online to arrange a consultation.
"Man, Tommy and Travis came out and replaced our furnace and AC units. They were professional, honest, and did quality work. I wouldn't trust another business to work on the essentials of my home!"
"Great company, from the staff and technicians to management. Great, knowledgeable folks. You won't go wrong with this company for your heating and A/C needs. They're the only ones I call."